27 August, 2013
Bread Pie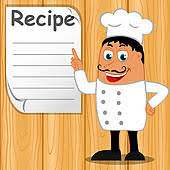 Posted in :
Pies
on
by :
admin
Ingrients & Directions

10 c Sliced fruit
10 Slices good-quality white
-sandwich bread, crusts
-removed
1 lg Egg
4 oz Unsalted butter, melted
1 c Granulated sugar
1 ts Pure vanilla extract
Confectioners' sugar
1. Heat oven to 350 degrees. Spread fruit in a 13- by 9-inch baking
dish. Arrange a single layer of bread over fruit.
2. Lightly beat egg in small bowl; mix with butter, granulated sugar
and vanilla. Spoon over bread and carefully spread with a rubber
spatula. Bake until bread is golden, 45 to 50 minutes. Sift
confectioners' sugar over and serve warm.

Yields
8 Servings