26 August, 2013
Pineapple-banana Torte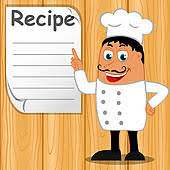 Posted in :
Tortes
on
by :
admin
Ingrients & Directions

2 Envelopes gelatin
1/2 c Cold water
1 c Boiling water
1 pk Instant vanilla pudding
1 1/2 c Milk
2 c "La Creme"
2 sm Bananas; sliced
1 cn (5.5-oz) pineapple chunks;
-drained; reserve juice
Ladyfingers
Line a 1-1/2 quart bowl with Saran wrap. Prepare the gelatin with the water
as directed on the package. Prepare the pudding with the milk as directed.
Stir the gelatin into the pudding and chill for 5 minutes. Fold in La
Creme, then the bananas. Spoon 3/4 cup of the mixture into the bowl. Split
the ladyfingers and brush them with pineapple juice. Place the ladyfingers,
round side out, around the bowl. Add the remaining pudding mixture. Add the
pineapple chunks. Chill until set.
From a collection of my mother's (Judy Hosey) recipe box which contained
lots of her favorite recipes, clippings, etc. Downloaded from Glen's MM
Recipe Archive,
Yields
8 Servings