28 August, 2013
Dilly Bread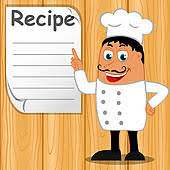 Posted in :
Breads
on
by :
admin
Tags:
dilly bread
,
Dilly bread recipe
Ingrients & Directions

2 c Chopped onions
1/2 c Water
3 c Warm water
1/4 c Sweetener
2 tb Yeast
1 tb Salt
3 tb Oil
1/3 c Nutritional yeast
3 tb Dry dill weed
3 c White flour
7 c Wholewheat flour
Cook onions in 1/2 c water. Combine sweetener, yeast & warm water &
let stand till it foams. Add 4 c flour to the yeast mixture. Stir
vigorously for 1 minute. Stir in all remaining ingredients except the
flour. After this is well mixed, beat in the rest of the flour a
little at a time until you have the correct consistency. Cover & let
rise till doubled.
Punch down dough, knead & form into loaves. Place into 3 oiled loaf
pans. Let rise again till almost doubled. Bake at 350F for 35 to 40
minutes.
JoAnn Rachor, "Of these Ye May Freely Eat"

Yields
3 Loaves