28 August, 2013
San Francisco Sour Dough Bread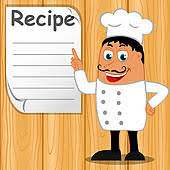 Posted in :
Breads
on
by :
admin
Tags:
dusted baking sheet
,
San Francisco Sour Dough Bread
Ingrients & Directions

STARTER
1 pk Active dry yeast 2 c All purpose flour
2 c Water; warm (105~-115~)
-DOUGH-
1 pk Active dry yeast 2 ts Sugar
2 tb Water; lukewarm 2 ts Salt
pn Sugar 1/2 ts Baking soda
1 1/2 c Water; warm (105~-115~) 2 c Unsifted all purpose flour
1 c Starter 1 tb Cornmeal
4 c All purpose flour
STARTER: In large bowl mix yeast with warm water and flour. Beat until
smooth. Cover and let stand at room temperature for 48 hours,
stirring mix 4 times during the 2 days. DOUGH: In a cup soften yeast
in warm water with a pinch of sugar for 5 minutes. Pour 1-1/2 cups
warm water into mixing bowl. Stir in the yeast mix and starter. Stir
in flour, sugar and salt. Mix vigorously for 3 minutes. Turn into
greased bowl. Cover. Let rise in warm place until doubled. Mix baking
soda with 1 cup remaining flour. Add to dough. Turn onto floured
board. Knead, adding remaining flour little by little until smooth
and satiny. Divide dough in half. Shape into 2 loaves on a greased
and cornmeal dusted baking sheet. Cover. Let rise until doubled.
Brush loaves with water. Slash diagonally with sharp knife. Place a
shallow pan of hot water in bottom of oven. Bake loaves at 400~ for
about 45 minutes or until crust is golden. For a crisper crust,
remove loaves from oven after 35 minutes. Brush with salted water.
Bake for another 10 minutes.
TIP: Store starter in refrigerator for future use. Bring to room
temperature for 4 hours before using.

Yields
2 servings