28 August, 2013
Pierniki (Polish Spice Cookies)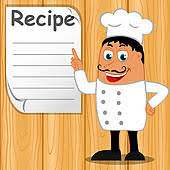 Posted in :
Cookies
on
by :
admin
Tags:
cookies
,
pierniki
,
poish spice cookies
Ingrients & Directions

1 c Honey
4 c Flour
-Pinch of black pepper
1/2 ts Cinnamon
1/2 ts Nutmeg
1/2 ts Cloves
1/2 ts Allspice
4 Eggs
1 c Sugar
1 ts Soda, dissolved in a little
-water
Heat the honey until it boils, then allow it to cool to lukewarm.
Sift the flour with the spices. Beat the eggs with the sugar until
thick. Add the soda, the honey, and the flour. Mix well. Roll out the
dough on a lightly floured board to 1/4-inch thickness. Cut cookies
in whatever shapes you like.
Bake them on buttered sheets in a 350F oven for about 10 to 15
minutes, or until just lightly browned. The Pierniki may be
decorated with a thin glaze made of confectioners' sugar, water,
almond or vanilla extract, and a drop of food coloring.
Yields
1 servings