28 August, 2013
Quick Anadama Bread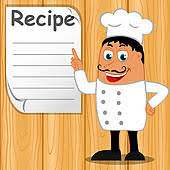 Posted in :
Breads
on
by :
admin
Tags:
Anadama Bread
,
bread
,
bread recipe
,
Quick Anadama Bread
Ingrients & Directions

1 1/4 c All purpose flour
1 1/4 c Whole wheat flour
1/2 c Yellow cornmeal
2 ts Baking powder
3/4 ts Salt
1/2 ts Baking soda
1 1/3 c Buttermilk
1/3 c Dark molasses
1/4 c Butter; melted (1/2 stick)
1 Egg
Poppy seeds
Preheat oven to 350F. Grease 9×5-inch glass loaf pan. Mix all purpose
flour, whole wheat flour, yellow cornmeal, baking powder, salt and baking
soda in large bowl. Combine buttermilk, dark molasses, butter and egg in
another bowl and mix to blend. Add to dry ingredients and stir until just
blended. Spoon into prepared loaf pan. Sprinkle with poppy seeds. Bake
until loaf is springy to touch, about 1 hour. Cool in pan on rack 10
minutes. Turn out onto rack. Cool bread to room temperature. Cut into
slices and serve.
Makes 1 loaf.

Yields
1 servings