30 November, 2012
Cinnamon Coffee Cake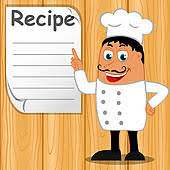 Posted in :
Cakes
on
by :
admin
Ingrients & Directions

-CAKE BATTER-
3/4 c Sugar 1 1/2 c Flour
1/4 c Softened butter or margarine 2 t Baking powder
1 Egg 1/2 t Salt
1/2 c Milk
FILLING
1/2 c Brown sugar, packed 2 T Butter or margarine
2 T Flour 1 1/2 t Cinnamon
Preheat oven to 375degF. Grease on 8- or 9-inch square baking pan.
Beat sugar, butter, and egg until creamy. Stir in milk. Blend dry
ingredients. Stir into creamed mixture until barely moistened.
Combine filling ingredients; mix well.
Spread half the batter in the pan and sprinkle with half the filling.
Add rest of batter, then remaining filling. Bake about 30min, until
firm to the touch in center. Serve warm or cooked.
about 275 cal per serving
Yields
9 servings