31 August, 2010
Smoked Mackerel And Spinach Fishcakes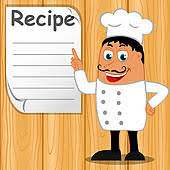 Posted in :
Cakes
on
by :
admin
Ingrients & Directions

2 Smoked mackerel; about 5oz
-each
2 ts Olive oil
4 oz Cooked spinach
2 oz Butter
4 Potatoes; peeled, boiled and
; mashed
2 Eggs beaten
2 tb Finely chopped fresh dill
1/2 ts Freshly grated nutmeg
Salt and pepper
5 Floz natural yoghurt
Heat the grill and place the smoked mackerel underneath, drizzled with
olive oil. Cook for about 3 minutes on each side. Carefully flake the fish
off the skin.
Place the spinach in a saucepan with a tiny knob of butter and dry out over
medium heat. Place the mackerel and spinach in a bowl with the butter,
mashed potatoes, egg, dill, nutmeg, salt and pepper. Add yoghurt to mix to
a fairly firm consistency; if it's too sloppy the fishcakes will not hold
their shape.
Take a large egg-sized amount of mixture in your hands and form into a flat
cake – you should be able to make 4 large fishcakes. Place under the grill
and cook for 5-10 minutes, turning once. Serve hot.

Yields
4 servings