31 December, 2010
Sweet Red Date New Year's Cake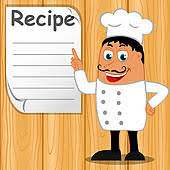 Posted in :
Cakes
on
by :
admin
Ingrients & Directions

1 lb Glutinous rice flour
1 lb Brown cake sugar
1 3/4 c Warm water
GARNISH
1 Dried jujube red dates; or
-more
White sesame seeds
(Hung choa nein gao)
Line a 9-inch round cake pan with plastic wrap. Set aside.
Sift sweet rice flour once and set aside. Break sugar into pieces in a
mixing bowl and pour the warm water over it. Stir with a wooden spoon to
dissolve sugar. Gradually add flour and stir until the batter is smooth.
You may need to add a little more warm water.
Scrape batter into prepared cake pan and smooth top with a spatula.
Decorate top of cake with dates.
Set up a steamer, using either a bamboo steamer over a wok or one
improvised by putting a metal rack in a stock pot. Place cake pan in
steamer or on rack and fill pot with boiling water to within two inches of
bottom of cake pan. Cover and steam cake about 1 hour over high heat. Be
sure to check water level frequently and replenish as needed.
Cake is done when firm to the touch. Remove from steamer and sprinkle with
sesame seeds. Let cool. Serve at room temperature or cold. May be covered
with plastic wrap and refrigerated up to one week. Cold slices also may be
pan-fried in a little oil until both sides are crispy. Serves 16-20.
Note: Water-ground glutinous rice flour and jujube dates are available in
Asian markets.
NOTES : Cal 211.8 Total Fat 0.4g Sat Fat 0.1g Carb 50.7g Fib 0.7g Pro 1.7g
Sod 12mg CFF 1.7%

Yields
16 servings