30 April, 2011
Walnut Griddle Cakes With Orange Butter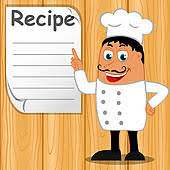 Posted in :
Cakes
on
by :
admin
Ingrients & Directions

ORANGE BUTTER
1/2 c Unsalted butter; room
-temperature (1
; stick)
1 tb Grated orange peel
2 ts Orange juice
GRIDDLE CAKES
3/4 c All purpose flour
3/4 c Whole wheat flour
2 tb Brown sugar
1 3/4 ts Baking powder
1/2 ts Salt
2 1/4 cups low-fat milk; up to
-2
1 lg Egg
1 lg Egg white
2 tb Unsalted butter; melted (1/4
-stick)
2/3 c Chopped walnuts
Nonstick vegetable oil spray
Warm maple syrup
FOR ORANGE BUTTER:
Mix all ingredients in small bowl; set aside.
FOR GRIDDLE CAKES:
Sift first 5 ingredients into medium bowl. Whisk 2 cups milk, egg, egg
white and butter in large bowl to blend. Whisk in dry ingredients. Thin
with remaining 1/4 cup milk if too thick. Mix in walnuts.
Preheat oven to 200F. Spray non-stick griddle or skillet with oil spray.
Heat over medium heat. Working in batches, pour batter onto griddle by
scant 1/4 cupfuls. Cook until bubbles appear and bottoms of griddle cakes
are golden, about 3 minutes. Turn and cook until bottoms are golden, about
2 minutes. Transfer to baking sheet. Keep warm in oven. Serve with orange
butter and maple syrup.
Serves 4.

Yields
1 servings