30 June, 2011
1,2,3,4 Cake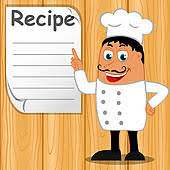 Posted in :
Cakes
on
by :
admin
Ingrients & Directions

1/2 lb Butter -; (2 sticks)
2 c Sugar
4 Eggs; separated
3 c Flour
2 ts Baking powder
1 c Milk; minus 1 tablespoon
1/2 ts Lemon extract
1/2 ts Vanilla
Using an electric mixer, cream the butter, sugar and egg yolks. Mix
the flour and baking powder together and sift into the creamed
mixture, adding alternately with the milk. Add the flavorings. Whip
the egg whites to form stiff peaks and gently fold into the batter.
Bake in a loaf pan in a preheated oven at 300 degrees for 1 1/4
hours, or until a toothpick stuck into the center of the cake comes
out clean.
Comments: When a Southern lady told me about this cake I responded
with utter ignorance. She could not believe I had never heard of such
a thing. The recipe resembles a fine pound cake in terms of both
flavor and texture. Sliced thin, with a cup of black coffee, it makes
a wonderful Southern afternoon snack.

Yields
1 servings