28 February, 2012
Carrot Cake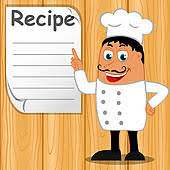 Posted in :
Cakes
on
by :
admin
Ingrients & Directions

2 c Flour
2 ts Baking soda
2 ts Ground cinnamon
1 c Light brown sugar; packed
1 lg Egg
2 lg Egg whites
2/3 c Lowfat buttermilk
8 oz Crushed pineapple in juice
2 c Carrots; peeled and grated
3 tb Canola oil
2 ts Vanilla extract
-ICING-
6 oz Light cream cheese; softened
1 tb Light margarine; softened
1 1/2 c Confectioner's sugar
1 ts Orange rind; grated
1/2 ts Vanilla extract
Cake:Combine flour, baking soda & cinnamon. Set aside. Combine brown
sugar, egg, egg whites, buttermilk, pineapple & its juice, carrots,
oil & vanilla. Beat at medium speed until well blended. Pour the
batter into a greased 13 x 9 pan. Bake at 350F for 25-35 minutes,
until a pick inserted in the center comes out clean. Cook cake in the
pan completely. Spread icing over cooled cake.
Icing: Combine cream cheese & margarine. Gradually add the powdered
sugar, mixing until smooth. Add the orange rind & vanilla.
Nutritional info/serving: 188.6 cal, 4.8g fat(22.5%), 17 mg chol, 210
mg sodium, 33.2 g carb
Notes: The original recipe used regular buttermilk. I only buy the
lowfat so that's what I use in the cake.
Per serving: 187 Calories; 5g Fat (23% calories from fat); 4g
Protein; 33g Carbohydrate; 16mg Cholesterol; 197mg Sodium
NOTES : 4 WW points

Yields
18 servings