30 April, 2012
Chicken Garlic Birthday Cake From Bone Appetite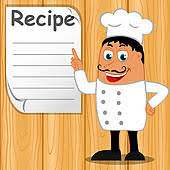 Posted in :
Cakes
on
by :
admin
Ingrients & Directions

1 Chicken bouillon cube
1 c Whole-wheat flour
2 c Wheat germ, plus more for
– flouring pan
1/2 c Cornmeal
2 Eggs
1/2 c Vegetable oil
1 tb Minced garlic
2 c ;water
Garlic-flavored vegetable-
-oil spray
Preheat oven to 375 degrees. Dissolve bouillon cube in warm water.
Combine flour, wheat germ, cornmeal, eggs, oil, garlic and water.
Spray two cake pans with garlic-flavored oil, and sprinkle with flour.
Bake 50 minutes. After removing cake from oven, turn upside down and
let cool. Makes two small cakes.
as baked at "Bone Appetite", a dog treat bakery in Houston, Tx
printed in Houston Chronicle, 5-21-98
typed and posted by teri Chesser 5/98

Yields
2 Small_cake