31 May, 2012
Chocolate And Pear Cheesecake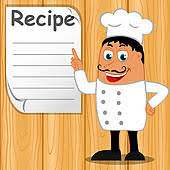 Posted in :
Cakes
on
by :
admin
Ingrients & Directions

50 g Butter; (2oz)
250 g Digestive biscuits; crushed
-(8oz)
2 Eggs; size 3, separated
75 g Caster sugar; (3oz)
1 250 gram car curd cheese;
-(8oz)
1 142 millilit double cream;
-(5 fl oz)
25 g Cocoa powder; (1oz)
625 g Comice pears; peeled, cored
-and
; chopped (1 1/4 lb)
Icing to dust
Melt the butter, stir in the biscuits and press into a 20cm (8 inch)
spring sided cake tin.
Whisk the egg yolks and sugar until thick enough to leave a trail,
then whisk in the cheese, cream, cocoa powder and pears.
Whisk the egg whites until stiff, fold into the pear mixture and
spoon into the cake tin.
Place in a preheated oven 160?C/325?F/Gas Mark 3 for 1 1/2 – 1 3/4
hours.
Leave in the tin for 15-20 minutes before removing and allowing to
cool completely.
Dust with icing sugar and serve.

Yields
6 servings