28 February, 2013
Asparagus And Basil Pancakes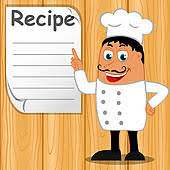 Posted in :
Cakes
on
by :
admin
Ingrients & Directions

125 g Plain white flour
1 pn Salt
1 Free range egg
300 ml Milk
Olive oil for frying
1 lb Asparagus
2 Shallots
2 tb Olive oil
125 ml Bchamel sauce
1 Handful fresh basil
Freshly grated Parmesan
-cheese to serve
To make the pancake batter, put the flour and salt in a bowl and make
a well in the centre. Beat the egg and add to the flour with the
milk, then beat together to form a smooth batter.
Pre-heat the oven to 200C/400F/gas6.
Trim asparagus and put on a baking tray. Finely chop the shallots and
sprinkle over the asparagus, then drizzle over the olive oil. Roast
in the oven for 10-15 minutes until tender. Finely tear the basil
leaves and add to the warmed bchamel sauce.
To cook the pancakes, heat a spoonful of oil in a medium frying pan
and when hot, add a ladleful of the batter. Fry on both sides until
golden brown. Drain on kitchen paper. Repeat, heating the pan each
time, to make 8 pancakes. Stack the pancakes between sheets of
greaseproof paper and keep warm.
To serve, add a dollop of sauce to each pancake, put some of the
asparagus and shallots in the middle and roll up. Sprinkle Parmesan
cheese on top.

Yields
4 servings