30 April, 2013
Cottage Cheese And Apple Pancakes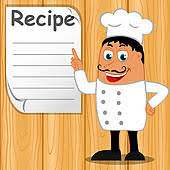 Posted in :
Cakes
on
by :
admin
Ingrients & Directions

4 Eggs; separated, see note
1 c Cottage cheese; lowfat
1 c (packed) grated tart apple
3/4 c Flour
1 ts Lemon juice; or more
1 tb Honey; optional
1/2 ts Cinnamon
1/2 ts Salt
2 tb Finely minced walnuts; or
-almonds, optional
Oil or butter; for frying
—Optional Toppings—
Real maple syrup
Sour cream or yogurt
Beat the egg whites until stiff. Combine all other ingredients (except
toppings and frying oil) in a medium-sized bowl and mix well. Fold in the
egg whites. Heat oil or melt butter in a skillet. When it is hot enough to
sizzle a drop of batter on contact, add spoonfuls of batter. Fry on both
sides until firm and lightly browned. Serve right away, topped with syrup,
sour cream or yogurt.
Each serving provides: Calories, 348; Protein, 18 g; Carbohydrates, 35 g;
Fat, 16 g; Sodium, 564 mg; Cholesterol, 213 mg; Dietary Fiber, 2 g.
Note YOLKS are optional-use all, some, or none.

Yields
4 Servings