30 June, 2013
Crackling Bacon Corn Cakes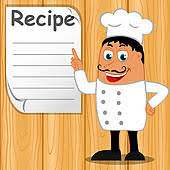 Posted in :
Cakes
on
by :
admin
Ingrients & Directions

6 sl Bacon; cut into 1/2″ pieces
1/3 c Chopped onion
1 c All purpose flour
2 tb Chopped fresh chives
1 ts Baking powder
1/2 ts Salt
1/8 ts Cayenne pepper
2/3 c Milk
1 Egg; slightly beaten
1 tb Vegetable oil
8 oz Whole kernel corn; (1 can,
-drained)
1/2 c Shredded Monterey Jack
-cheese
Maple syrup or maple
-flavored syrup; warmed
In 10″ skillet cook bacon and onion over medium high heat until bacon is
browned (7 to 9 minutes). Meanwhile, in medium bowl combine flour, chives,
baking powder, salt and cayenne pepper. Stir in milk, egg and oil just
until moistened. Stir in bacon and onion and remaining ingredients except
maple syrup. Heat griddle to 350 or until drops of water sizzle. For each
corn cake pour 1/3 cup batter onto greased griddle. Cook until corn cakes
are golden brown (3 to 4 minutes on each side). Serve warm with maple
syrup.

Yields
6 Servings