31 May, 2010
Dark Chocolate Cake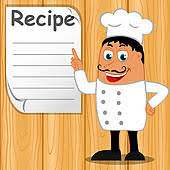 Posted in :
Cakes
on
by :
admin
Ingrients & Directions

3/4 c Butter; softened
1 1/2 c Granulated sugar
3 oz Unsweetened chocolate;
-melted
2 Eggs
1 ts Vanilla
1 3/4 c All-purpose flour
2 ts Baking powder
1/4 ts Salt
1 c Milk
Cream butter and sugar until fluffy. Stir in chocolate. Beat in eggs, one
at a time, and vanilla. Combine flour, baking powder and slat; add to
creamed mixture alternately with milk. Spread batter in greased, floured
10-inch tube or bundt pan; bake in 350F oven for 50 minute or until cake
tester inserted into centre comes out clean. Let cool in pan for 10
minutes; remove to rack to let cool.
Per serving: 3901 Calories; 202g Fat (45% calories from fat); 51g Protein;
507g Carbohydrate; 767mg Cholesterol; 2894mg Sodium
NOTES : This cake is delicious served with a light dusting of icing sugar.
If you prefer, drizzle it with a glaze made of 1 cup sifted icing sugar, 2
tablespoons light cream and 1 teaspoon grated orange rind.

Yields
1 Servings