30 September, 2011
Parve Chocolate Cake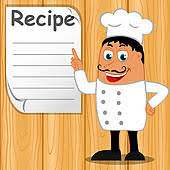 Posted in :
Cakes
on
by :
admin
Ingrients & Directions

3 c Flour
2 c Sugar
2/3 c Cocoa
2 ts Baking soda
1 ts Salt
2 ts Vanilla
2 tb Vinegar
1 c Melted margerine
2 c Cold water
Below is a "quick and easy" parve chocolate cake which is tried and true in
my family. It is not gooey but it is very moist and will serve a lot of
people. I posted this in the archives some time ago and just copied it from
there today since the cookbook is at home and I am at work.
This recipe comes from a cookbook compiled by the nursing staff at Albert
Einstein Medical Center (Northern Division) in Philadelphia in the late
1950's. It's listed in the book as a "Chocolate Vinegar Cake" but "vinegar"
usually turns people off when they are thinking of cake. The other reason I
love this cake is that it is all made in one bowl. Not a lot of clean-up!
Preheat oven to 350.
Sift first five ingredients into large bowl. Make two small and one large
hole in dry ingredients. Put vanilla in one hole, vinegar in second hole
and margarine in large hole. Pour cold water over entire mixture. Mix well.
Pour into well greased 13 x 8 x 2 baking ban. Bake for 45 minutes. Cool in
pan.
The cake is so moist that it is difficult to remove from pan. I line pan
with tin foil, lift out when cool and turn upside down on a tray and
immediately flip over to my serving plate. It can be dusted with
confectioner's sugar or iced. It is always a big hit.

Yields
1 Servings