30 November, 2012
Potato Pancakes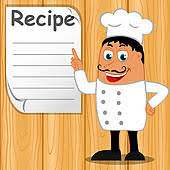 Posted in :
Cakes
on
by :
admin
Ingrients & Directions

Vegetable oil
3 c Shredded potatoes
— (about 1 lb.)
1/2 c Sliced green onions
-OR- chopped onion
1/2 c Pancake & Waffle Mix
— (Aunt Jemima Original)
2 tb Water
1/2 ts Salt (optional)
In large skillet, heat 1/4-inch deep oil over medium-high heat to 375 F.
Combine remaining ingredients; mix well. For each pancake, drop scant 1/4
cup potato mixture into skillet; shape into circle and flatten slightly
with back of spoon. Fry 2 to 3 minutes per side or until golden brown.
Drain on absorbent paper. Serve hot with applesauce or sour cream, if
desired.
NUTRITIONAL ANALYSIS per serving:
* calories 208
* carbohydrates 22 g
* protein 3 g
* fat 12 g
* calcium 61 mg
* sodium 170 mg
* cholesterol 0 mg
* dietary fiber 3 g

Yields
6 Servings