31 December, 2012
Potteries Oatcakes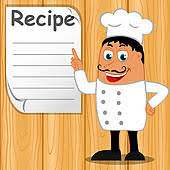 Posted in :
Cakes
on
by :
admin
Ingrients & Directions

2 oz Plain white flour; sifted
2 oz Oatmeal
1 ts Baking powder
1/4 ts Salt
2 Eggs; lightly beaten
8 oz (fl) milk
1 tb Butter; melted
From: Jane Sales Jane.Sales@isltd.insignia.com
Date: Fri, 14 Jan 94 09:29:09 GMT
This recipe is from a local women's group's Potteries Cookbook. Homemade
oatcakes never seemed as good as the shop-bought thing, strangely, but this
is the best recipe I've found.
Mix the flour, oatmeal, baking powder and salt in a large mixing bowl. Make
a well in the centre and pour in the beaten eggs and milk. Mix with a
wooden spoon, gardually incorporating more of the flour until the mixture
forms a smooth batter. Set aside for 30 minutes.
Use hot frying pan or griddle, and grease it with melted butter. Place 3 or
4 tablespoons of mixture on it, well-spaced, and cook for 1 minute.
The traditional way to serves them seems to be with butter and jam, but our
family always perferred them as a savoury dish, with melted cheese and
eggs.
REC.FOOD.RECIPES
From rec.food.cooking archives. Downloaded from Glen's MM Recipe Archive,

Yields
4 Servings