31 January, 2010
Raspberry Sauced Fruit Cakes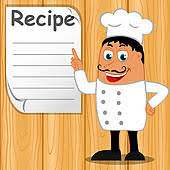 Posted in :
Cakes
on
by :
admin
Ingrients & Directions

1/2 c Crushed vanilla wafers
2 tb Butter; melted
8 oz Package cream cheese
1/2 c Sugar
1 tb All-purpose flour
2 Eggs
3 tb Milk
1 Recipe raspberry sauce
Preheat oven 350 degrees Fahrenheit. Combine vanilla wafers and butter.
Divide mixture among muffin cups. Press onto bottom to form a firm and even
crust. In mixer bowl beat cream cheese, sugar, flour, vanilla until well
combined. Add eggs, beat until combined. Stir in milk. Divide mixture among
muffin cups. Bake about 20 minutes cool chill 20 minutes before spooning
raspberry sauce on them.
Raspberry Sauce: In blender combine 1-1/2 cups loose packed raspberries,
1/4 cup sugar, 1 teaspoon lemon juice, and 1 teaspoon raspberry liqueur.
Blend until smooth. ThePoet102

Yields
1 Servings