31 August, 2011
Cappuccino Cupcakes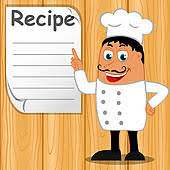 Posted in :
Cakes
on
by :
admin
Ingrients & Directions

2 c All-purpose flour
1 1/2 c Sugar
1/2 c Unsweetened cocoa powder
1 ts Baking soda
1/2 ts Salt
1/2 c Prune puree
1/4 c Vegetable oil
2 Eggs
1/4 c Instant espresso powder,
-dissolve in, 1/2 cup water
2 ts Vanilla
1 1/2 c Frozen whipped topping,
-thawed
Unsweetened cocoa powder,
-for dusting
Heat oven to 350. Lightly coat 18 standard-size muffin-pan cups with
nonstick cooking spray. Whisk together flour, sugar, cocoa powder, baking
soda and salt in small bowl. Stir together prune puree, oil, eggs,
dissolved espresso and vanilla in large bowl. Stir in flour mixture until
blended. Spoon batter envenly into prepared muffin cups, filling each cup
about halfway full.
Bake in 350 oven 17-20 minutes or until tops spring back when lightly
touched. Cool cupcakes in pan for 3 minutes. Turn out onto wire rack to
cool completely.
Just before serving, frost each cupcake with a tablespoonful of whipped
topping. Dust with cocoa powder through fine=mesh sieve.

Yields
18 Servings