31 October, 2011
Carrot Cake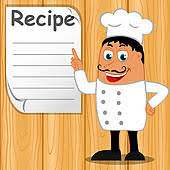 Posted in :
Cakes
on
by :
admin
Ingrients & Directions

1 cn (20 oz) crushed pinneaple;
-drained
12 oz Dried prunes; pureed with
-the juice from the
-pineapple
2 c Sugar
3/4 c Pureed prunes above
4 Egg whites
2 ts Vanilla
2 1/4 c Flour
2 ts Baking soda
2 ts Cinnamon
1 ts Nutmeg
1/2 ts Seasalt
3 c Grated carrots
1 c Rasins ( optional)
1 cn Pinneaple
-CREAM CHEESE FROSTING-
6 oz Fat free cream cheese
3 c Powdered sugar
1 ts Vanilla
Preheat oven to 375 degrees F. Coat a 13 x9 baking pan with Pam. In bowl
combine sugar, prunes, egg whites, and vanilla. Add nutmeg and salt, baking
soda, and cinnamon. Add flour. Stir in carrots, pineapple and raisins.
Spread batter into pan. Pake 30 to 35 min. Be sure not to over bake. Cool
Cream Cheese Frosting: Beat with rotary mixer till smooth and creamy.
Spread on cake Enjoy
Note: if you want you can subistute apple juice for the pineapple juice in
the prunes. Save the rest of the prunes to bake with.

Yields
1 Servings