30 November, 2011
Carrot Cake #15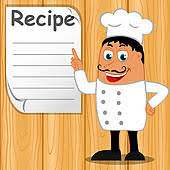 Posted in :
Cakes
on
by :
admin
Ingrients & Directions

2 c Allpurpose flour
2 ts Cinnamon
1 ts Baking powder
1 ts Baking soda
3/4 ts Salt
1/4 ts Nutmeg
1 pn Cloves
1 1/2 c Sugar
1 cn (8-oz) crushed pineapple in
-juice
3 tb Sugar-free applesauce
1 ts Vanilla extract
3 c Shredded carrots
3 lg Egg whites
From: hz225wu@unidui.uni-duisburg.de (Micaela Pantke)
Date: Thu, 12 Aug 93 09:26:15 +0200
From: P.L. Karas
Preheat oven to 350 F. Line 13X9 inch baking pan with foil. Coat with
vegetable cooking spray. Combine first seven ingredients in bowl. Stir
together: sugar, pineapple, applesauce and vanilla in mixer bowl until
smooth. Stir in dry ingredients until just combined. Stir in carrots. Beat
egg whites in small mixer bowl to stiff peaks. Fold into carrot mixture in
2 batches with rubber spatula. Pour batter into pan. Bake 40 minutes or
until tooth pick inserted in center comes out clean. Cool in pan on wire
rack. Invert cake onto wax paper. Remove pan and foil. Spread " Fluffy
Frosting" over cooled cake.
Note: I think when I made this, I just sprayed the pan ( no foil) , baked
the cake, cooled it in the pan and spread the frosting on just the top in
the pan. Served the cake from the pan.
REC.FOOD.RECIPES ARCHIVES
/CAKES
From rec.food.cooking archives. Downloaded from Glen's MM Recipe Archive,

Yields
16 Servings