31 December, 2011
Carrot Cake With Orange Glaze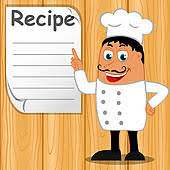 Posted in :
Cakes
on
by :
admin
Ingrients & Directions

Oil for greasing pan
3 c Cake flour
2 ts Baking powder
1 ts Baking soda
1 ts Cinnamon
1/2 ts Salt
1 c Applesauce
1 c Brown sugar
1 c Sugar
3 Egg whites
1 Grated rind of 1 orange
1 Juice of 1 orange
3 c Carrots, peeled shredded
1 c Raisins
-ORANGE GLAZE-
2 c Powderd sugar
4 tb Orange juice
1 ts Lemon juice
1 ts Grated orange rind
Preheat oven to 350 degrees. Lightly grease bundt-style pan or 10″
springform pan with center hole.
Combine flour, baking soda, baking powder, cinnamon and salt: set aside.
Beat together applesauce, sugars, egg whites, orange rind and juce. Blend
in flour mixture with mixer at medium speed only until smooth. Do not over
beat. Stir in carrots and raisins. Pour batter into prepaed pan and bake 50
to 60 minutes or until a knife inserted near center comes out clean. Remove
cake from pan, or if using spring form, remove sides of pan and put cake on
wire rack to cool completly.
****************************Orange Glaze*******************************
Combine sugar, orange juice, lemon juice and orange rind; stir thoroughly
to blend. Spoon glaze over cooled cake and serve.
From

Yields
20 Servings