28 August, 2013
Light Fruit And Nut Cake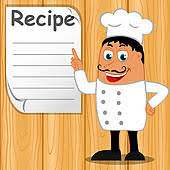 Posted in :
Cakes
on
by :
admin
Ingrients & Directions

125 g Raisins; (4oz)
250 g Sultanas; (8oz)
125 g Dried apricots; roughly
-chopped
; (4oz)
3 tb Brandy or orange juice
125 g Hazelnuts; chopped (4oz)
250 g Glac? cherries; halved (8oz)
75 g Cut mixed peel; (3oz)
40 g Angelica; chopped (1 1/2 oz)
50 g Glac? ginger; finely chopped
; (2oz)
Grated rind of 1 orange and
-1 lemon
250 g Unsalted butter; softened
-(8oz)
250 g Caster sugar; (8oz)
4 md Size eggs
50 g Ground almonds; (2oz)
250 g Plain flour; sifted (8oz)
1/4 ts Salt
2 tb Redcurrant jelly; melted
50 g Blanched almonds; (2oz)
Place the raisins, sultanas, apricots and brandy or orange juice in a bowl.
If possible, cover and leave overnight.
Add the nuts, 175g (6oz) cherries, peel, angelica, ginger and rinds.
Whisk together the butter and sugar in a large bowl. Beat in the eggs one
at a time, then carefully fold in the almonds, flour and salt followed by
the fruit and nut mixture.
Spoon the mixture into a greased and lined 20cm (8 inch) round or 18cm (7
inch) square cake tin. Smooth the top, hollowing slightly in the centre.
Place in a preheated oven 160 ?C, 325 ?F, Gas Mark 3 for 1 hour. Reduce the
oven temperature to 150 ?C, 300 ?F, Gas Mark 2 cover the cake with
greaseproof paper and cook for a further 2-2 1/4 hours, until a skewer
inserted into the centre of the cake comes out clean.
When cold, remove the cake from the tin and peel off the paper. Brush the
top of the cake with redcurrant jelly and arrange the almonds and remaining
cherries on top. Brush again with the redcurrant jelly. Store in an
airtight tin.

Yields
1 servings