30 June, 2010
Passion Cake With Boiled Butter Cream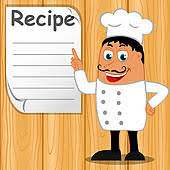 Posted in :
Cakes
on
by :
admin
Ingrients & Directions

450 g Carrots; grated (1lb)
170 g Plain flour; (6oz)
2 ts Baking powder
1/2 ts Bicarbonate of Soda
1 ts Salt
2 ts Ground cinnamon
4 Eggs
2 ts Vanilla essence
110 g Dark brown sugar; (4oz)
2 tb Maple syrup
300 ml Sunflower oil; (10fl oz)
110 g Chopped walnuts; (4oz)
100 g Butter; (4oz)
Passion fruit
300 g Sugar; (11oz)
Preheat the oven to 180?C/350?F/gas mark 4. Line an 11 x 8 inch (28 x 20cm)
tin with greaseproof paper.
Sift the flour, baking powder, bicarb, salt and cinnamon together. Beat
together the eggs, vanilla, sugar, oil and maple syrup until thoroughly
mixed. Add the sifted ingredients folding in 3 batches. Add the carrots and
walnuts and stir well; add the passion fruit.
Pour into the tin and bake until the cake springs back when lightly
touched, approx 45 minutes. Cool on a rack while you make the topping.

Yields
1 servings