31 October, 2010
Helen's Carrot Cake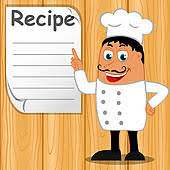 Posted in :
Cakes
on
by :
admin
Ingrients & Directions

4 Eggs, separated 1/2 t Cinnamon
1 1/2 C Sugar 1 t Vanilla extract
1 C Carrots, grated 1 pn Salt
1 C Walnuts, finely grated 1 C Oil
1 1/2 C Flour 2 1/2 t Water, hot
1 t Baking powder 1/2 t Baking soda
1/4 t Nutmeg
FILLING
8 oz Cream cheese 1/2 C Jam (strawberry,
1/2 C Sugar -apricot or raspberry)
FROSTING
1 C Whipping cream 2 T Sugar
Preheat oven to 350 degrees F. Cream together egg yolks and about 1 cup of
the sugar until the yolk color lightens. Stir in carrots, nuts, flour,
baking powder, nutmeg, cinnamon, vanilla, salt and oil. Mix together hot
water and soda and stir into flour mixture.
Beat egg whites until foamy. Gradually add remaining sugar. Beat until
stiff and glossy. Fold egg white mixture into flour mixture.
Turn mixture into a greased pan, 13 x 9-inch, lined with greased wax paper
and bake for 45 minutes or until done. Cool. Slice in half horizontally, to
form two layers.
Make the cream cheese filling: soften the cream cheese and beat in the
sugar, mixing gradually, until the filling is smooth and fluffy. A food
processor works well for this.
Cover bottom layer with cream cheese filling, then cover cream cheese layer
with jam. Place the top layer of the cake carefully on top of the jam.
Make the frosting: beat the whipping cream until slightly stiff, then add
the sugar and beat the mixture to stiff peaks. Frost the entire cake with
whipped cream.
NOTES:
* Carrot cake with cream cheese filling — I got this recipe originally
from _The Oregonian_ in Portland, Oregon.
: Difficulty: easy to moderate.
: Time: 30 minutes preparation, 1 hour baking and cooling, 10 minutes
frosting.
: Precision: measure the ingredients.
: Gary L. Scott
: Tektronix, Inc, Beaverton Oregon, USA
: garys@tekcbi.UUCP
:
Yields
12 servings