31 January, 2011
Almond Cookie Shells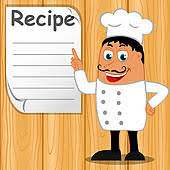 Posted in :
Cookies
on
by :
admin
Ingrients & Directions

3 lg Egg whites
2 tb Sugar
2 tb Flour
1/2 c Almonds, sliced, toasted
Put the egg whites in a bowl and beat them briefly.
Add the sugar and flour, then whisk. Stir in the almonds.
Butter a sheet pan and spoon tablespoons of mixture onto the pan.
Spread the spoonfuls on the sheet slightly with the back of a spoon
to form circles about 2 inches apart.
Bake in a 350 F oven for 5 – 7 minutes. Remove from oven and
while still hot, you can mold the cookies into small cups by placing
them over small cups, or shot glasses, or even the back of a muffin
tin. Set aside to dry.
When dry, the almond cookies can be eaten as is, or in my
favorite way which is to fill them with mousse of some kind – or even
ice cream or yogurt (if you eat hurriedly before they soften.) 😉

Yields
6 Servings