30 September, 2011
Chocolate Chip – Pop't Wheat Cookies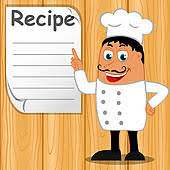 Posted in :
Cookies
on
by :
admin
Ingrients & Directions

1 c Shortening
1 ts Vanilla
2 c Unsifted flour
2 c Oatmeal (quick)
2 ea Eggs (beaten)
3/4 c Honey
1 ts Soda (in 1 teaspoon water)
2 c Pop't wheat
1 ts Salt
12 oz Choclate chips
Beat together; shortening, sugar, honey, eggs, and vanilla until
creamy. Add salt and flour. Add soda mixture. Fold in oatmeal,
chocolate chips and pop't wheat (last). Drop with teaspoon on lightly
greased cookie sheet or chill dough and roll in balls. Bake 10
minutes at 350 degrees.
MARGIE'S NOTE: Pop't wheat can be bought at most bakery supply
houses, but it is easier and usually less expensive to buy the cereal
from your local grocery store.
From the Kitchen of: Gary & Margie Hartford, Eugene, OR (1:152/19)

Yields
60 Servings