30 June, 2013
Basic Cookie Dough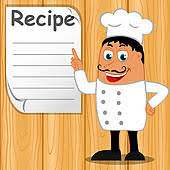 Posted in :
Cookies
on
by :
admin
Ingrients & Directions

4 c Flour; sifted all-purpose
1/2 ts Salt
1/2 c Butter; softened (or oleo)
1 c Lgt brown sugar – packed
1 ts Vanilla
1 ts Baking soda
1 1/2 c Vegetable shortening
1 c Sugar; granulated
2 Eggs
1. Sift flour, baking soda and salt onto waxed paper. 2. Beat
shortening, butter and sugars until well mixed. Beat in eggs and
vanilla. Stir in flour mixture until soft dough forms. 3. Divide
dough into 6 equal portions. Shape into rolls about 1 1/2″ in
diameter. Wrap each in foil and freeze. OR, if you prefer, flavor
the 6
different portions according to the notes that follow. 4. Slice
frozen rolls about 1/4″ thick. Arrange cookies 2″ apart on an
ungreased cookie sheet. Bake at 375 degrees for about 10 minutes or
until lightly browned.
NOTES: Coconut cookies: Mix 1/2 cup flaked coconut into 1/6 of dough.
Pecan cookies: Mix 1/2 cup chopped nuts into 1/6 of dough.
Taken from: IT ALWAYS TURNS OUT THE SAME WAY COOKBOOK A Collection of
Recipes from the Kitchen of Joyce & Clem Kohl Kook-Net: ? THE IMPROV
BBS ? Kook-Net Hub ? (602)991-4849

Yields
1 Servings