28 February, 2010
Mrs. Field's Soft & Chewy Peanut Butter Cookies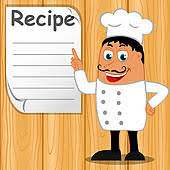 Posted in :
Cookies
on
by :
admin
Ingrients & Directions

2 c Flour
1/2 ts Baking soda
1/4 ts Salt
1 1/4 Cups. dark brown sugar,
-firmly packed
1 1/4 c White sugar
1 c Salted butter, softened
3 lg Eggs
1 c Creamy peanut butter
2 ts Pure vanilla extract
From: Mrs. Fields Cookie Cookbook Posted by: Donna Ransdell
Preheat oven to 300 F. In a medium bowl, combine flour, soda and
salt. Mix well with a wire whisk. In a large bowl blend sugars using
an electric mixer set at medium speed. Add butter and mix to form a
grainy paste, scraping the sides of the bowl. Add eggs, peanut butter
and vanilla, and mix at medium speed until light and fluffy. Add the
flour mixture and mix at low speed until just mixed. Don't overmix.
Drop by rounded tablespoons onto an ungreased cookie sheet, 1 1/2″
apart. With a wet fork gently press a crisscross pattern on top of
cookies. Bake for 18-22 minutes til cookies are slightly brown along
edges. Transfer immediately to cool surface with a spatula. (Mrs.
Fields uses her countertop rather than papertowels or racks.)

Yields
6 Servings