31 December, 2010
Hawaiian Mood Cookies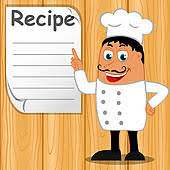 Posted in :
Cookies
on
by :
admin
Ingrients & Directions

1/2 c Parkay margarine
2 ts Baking powder
3 oz Cream cheese
1 ts Soda
1 ts Vanilla
1/2 ts Salt
1 c Sugar
1 cn Crushed pineapple, drain
2 Eggs
1/2 c Maraschino cherries, drain
2 1/4 c All purpose flour
1/2 c Chopped nuts
Blend together margarine, cream cheese and vanilla; add sugar and mix
well. Add eggs, one at at time, beating well after each addition.
Gradually add sifted dry ingredients; mix thorougly. Stir in
pineapple, cherries, and nuts. Drop by rounded teaspoonfuls onto
three accordian pleated pans.* Bake at 350 degrees for 15 minutes. To
remove cookies easily, pull end of foil until cookies pop off. *To
make each pan, cut four 2 foot lengths of foil. Accordian pleat in 1
inch fold and place on a cookie sheet.

Yields
48 Servings