31 January, 2012
Chewy Fig Oatmeal Cookies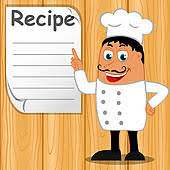 Posted in :
Cookies
on
by :
admin
Ingrients & Directions

1/4 c Brown sugar, firmly packed 1/2 ts Cinnamon
1/2 c Honey 1/2 ts Vanilla
1/3 c Dried figs, ground & packed 2 tb Dried figs, ground
2/3 c Margarine or butter 1/4 ts Nutmeg
6 tb Egg substitute; -OR- 1 1/2 c All-purpose flour
2 -Eggs 1 1/3 c Quick rolled oatmeal
1 ts Baking soda 1/2 c Nuts, finely ground (opt.)
1/2 ts Salt
[NOTE: for a no sugar variation, substitute same amount of white grape
juice concentrate or apple juice concentrate for brown sugar.]
In a large bowl, beat brown sugar, honey, first quantity of figs and
margarine until creamy, about 3-5 minutes. Add eggs to creamed
ingredients and mix until well blended. In a separate bowl, blend
baking soda, salt, cinnamon, vanilla, remaining figs, and nutmeg
thoroughly, and add to creamed mixture. Add flour, oatmeal, and nuts
(optional) and mix 2 minutes on low speed, then 3 minutes on medium
speed. Drop by teaspoonfuls on greased cookie sheet and bake at 350 F
for 10 to 15 minute according to preference of softer or crunchier
cookies.
Each serving contains approximately: Calories 74, Fat 2.01 g, Dietary
Fiber .936 g, Carbohydrates 13.0 g, Protein 1.45 g, Sodium 100 mg,
Cholesterol .031 mg
Calories from protein: 8% Calories from carbohydrates: 68% Calories
from fats: 24%

Yields
36 cookies