30 September, 2012
Fresh Fruit Pizza Cookie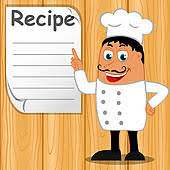 Posted in :
Cookies
on
by :
admin
Ingrients & Directions

1 pk Refrigerated cookie dough
1 pk Light cream cheese
1/3 c Sugar
1 ts Vanilla extract
1 Pineapple
2 Kiwi fruit
1 Banana
1/4 c Raspberries
1/4 c Apricot jam
1. Press cookie dough onto 14-inch pizza pan. Bake in 350 degree F.
oven 12 to 15 minutes until browned and puffed. Cool. 2. Beat cream
cheese, sugar and vanilla until blended. Spread over cooled cookie.
3. Twist crown from pineapple. Cut pineapple in half lengthwise.
Refrigerate one-half for another use, such as salads. Cut fruit from
remaining half into thin wedges. 4. Arrange pineapple around outer
edge of cream cheese. Arrange kiwi slightly overlapping pineapple.
Continue with banana and raspberries in center. Brush with jam.

Yields
10 servings