31 December, 2012
Peanut Butter Cup Oatmeal Cookies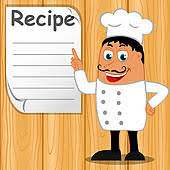 Posted in :
Cookies
on
by :
admin
Ingrients & Directions

1 1/2 c Brown sugar 1/4 ts Salt (optional)
1 c Butter, softened 2 c Quick OR old fashioned oats
2 lg Eggs UNCOOKED
2 ts Vanilla 9 oz Package miniature peanut
1 1/2 c All purpose flour Butter candies, unwrapped,
1/3 c Unsweetened cocoa powder Each cut into six pieces
1 ts Baking soda
Heat oven to 350 degrees.
In large bowl, beat first three ingredients until creamy. Add eggs
and vanilla; beat well.
In another bowl, combine flour cocoa powder, baking soda and salt.
Add this to the egg mixture. Then stir in oats and when partially
combined add the candy pieces. Mix well.
Drop by scant 1/4 cup measuring cupfuls onto ungreased cookie sheet
about 2 inches apart.
Bake 12 – 14 minutes or until cookies are slightly firm to the touch.
Cool one minute on cookie sheet, then remove to wire rack. Cool
completely. Store tightly covered.

Yields
3 dozen