28 February, 2013
Original Toll House Cookies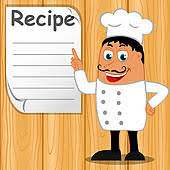 Posted in :
Cookies
on
by :
admin
Ingrients & Directions

2 1/4 c Flour, all purpose 3/4 c Sugar, brown
1 ts Baking soda 1 ts Vanilla
1 ts Salt 2 Eggs
1 c Butter; softened 2 c Chocolate Chips; (12oz)
3/4 c Sugar 1 c Chopped nuts (optional)
Preheat oven to 375 degrees. In small bowl, combine flour,
baking soda and salt, set aside. In large bowl, combine butter,
sugar, brown sugar and vanilla extract; beat until creamy. Beat
in eggs. Gradually add flour mixture. Stir in chocolate
morsels. (and nuts – optional) Drop by rounded tablespoons onto
ungreased cookie sheets. Bake at 375 for 9 – 11 minutes.
Cool on pan, remove to rack.
Makes 5 dozen 2 1/4 inch cookies
~=-=-=-=-=-=-=-=-=-=-=-=-=-=-=-=-=-=-=-=-=-=-=-=-=-=-=-=-=-=-=-=-
Refrigerator Cookies: Prepare dough as directed above. Divide
dough in half; wrap both halves separately in waxed paper. Chill
one hour or until fir. On waxed paper, shape each dough half
into 15 inch log, Roll up in waxed paper; refrigerate for 30
minutes. (May be stored up to 1 week in refrigerator or freeze up
to 8 weeks) Preheat oven to 375. Cut each log into 1/2 inch
slices. Place on ungreased cookie sheet. Bake at 375 for 8 – 10
mins. (Frozen dough not brought up to refrigerator temperature,
cook slightly longer)
Makes 5 dozen 2 1/4 inch cookies
~=-=-=-=-=-=-=-=-=-=-=-=-=-=-=-=-=-=-=-=-=-=-=-=-=-=-=-=-=-=-=-=
Pan Cookie Spread dough into greased 15 1/2 x 10 1/2 x 1 inch
baking pan. Bake 375 for 25 – 30 mins. Cool completely. Cut
into 35 2 inch squares.
== Courtesy of Dale & Gail Shipp, Columbia Md. ===

Yields
12 servings