30 June, 2013
Premier White Sugar Cookies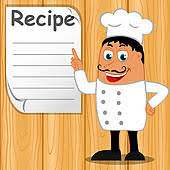 Posted in :
Cookies
on
by :
admin
Ingrients & Directions

2 pk NESTLE Premier White baking -softened
-bars, divided (6 oz ea; 1/3 c Sugar
-6 foil-wrapped bars) 1 Egg
2 1/4 c All-purpose flour 1 ts Vanilla extract
1 ts Baking powder 1 pk NESTLE Toll House semi-sweet
1/4 ts Salt -chocolate Rainbow Morsels
1/2 c Butter or margarine, -(9 oz; 1 1/2 cups)
Preheat oven to 350'F. In small saucepan over low heat, melt 3
foil-wrapped bars (6 ounces) Nestle Premier White baking bars; set
aside. In small bowl, combine flour, baking powder and salt; set
aside.
In large mixer bowl, beat butter and sugar until creamy. Blend in egg
and vanilla extract. Beat in melted baking bars. Gradually beat in
flour mixture until soft dough forms. Shape dough into ball; flatten
to 3/4″ thickness. Wrap in plastic wrap; refrigerate 15 minutes until
firm.
On lightly floured surface, roll out dough to 1/8″ thickness. With 2
1/2″ to 3″ cookie cutters, cut dough into shapes. Place on ungreased
cookie sheets.
Bake 8-10 minutes until edges are golden brown. Let stand 2 minutes.
Remove from cookie sheets; cool completely.
In small saucepan over low heat, melt remaining 3 foil-wrapped bars (6
ounces) baking bars. Spread or pipe melted baking bars on cookies.
Decorate with Nestle Toll House semi-sweet chocolate Rainbow Morsels,
attaching with melted baking bars.
Makes about 3 1/2 dozen cookies.
CHRISTMAS TREE HANGING COOKIES: With skewer, make 1/2″ hole near top
edge of each cut out before baking.

Yields
42 servings