31 January, 2010
Anise Cookie Cordials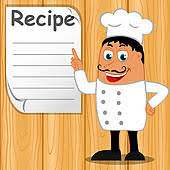 Posted in :
Cookies
on
by :
admin
Ingrients & Directions

2 3/4 c All-purpose flour
1 1/2 ts Baking powder
1 c Sugar
1/2 c Butter; softened
3 Eggs
2 tb Anise flavored liqueur
2 tb Water
1 tb Anise seed
1/2 pk (12-oz) Nestle Toll House
-little bits semi-sweet
-chocolate
1 c Coarsely chopped toasted
-almonds
In medium bowl, combine flour and baking powder; set aside. In large bowl,
combine sugar and butter; beat until creamy. Add eggs, anise flavored
liqueur, water and anise seed; beat until well blended. Gradually beat in
flour mixture. Stir in Nestle Toll House Little Bits semi-sweet chocolate
and almonds. Cover; chill several hours. Preheat oven to 375 degrees.
Divide dough into 4 pieces. With floured hands, shape each piece into
15-1/2x2x1/2-inch loaf. Place loaves 4 inches apart on greased cookie
sheets. Bake at 375 degrees for 15 minutes. Remove from oven. Cut into
1-inch slices. Place slices back on cookie sheets. Bake at 375 degrees for
7 minutes. Turn cookies over. Bake at 375 degrees for 7 minutes. Cool
completely on wire racks. Makes about
4-1/4 dozen 1-inch cookies.
From Favorite Recipes: Nestle Sweet Treats. Downloaded from Glen's MM
Recipe Archive,
Yields
50 Servings