31 August, 2010
Banana Split Sundae Cookies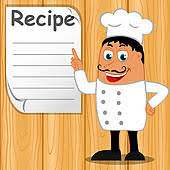 Posted in :
Cookies
on
by :
admin
Ingrients & Directions

1 c Margarine or butter — (quick or old-fashioned)
— softened 2 c All-purpose flour
1 c Brown sugar, firmly packed 1 ts Baking soda
1 1/2 c Mashed ripe banana 1/4 ts Salt (optional)
— (about 4 medium) 6 oz Semisweet chocolate pieces
2 Eggs Ice cream or frozen yogurt
2 ts Vanilla Ice cream topping
2 1/2 c Quaker Oats, uncooked — (any flavor)
Heat oven to 350 F. Beat together margarine and sugar until creamy.
Add banana, eggs and vanilla; beat well. Add combined oats, flour,
baking soda and salt; mix well. Stir in chocolate pieces; mix well.
Drop by 1/4 cupfuls onto ungreased cookie sheet about 3 inches apart.
Spread dough to 3-1/2-inch diameter. Bake 14 to 16 minutes or until
edges are light golden brown. Cool 1 minute on cookie sheet; remove
to wire rack. Cool completely. To serve, top each cookie with a
scoop of ice cream and ice cream topping.
Nutrition Information (1 cookie without ice cream or topping): *
Calories: 225 * Fat 11g * Sodium 130mg * Dietary Fiber 1g

Yields
24 cookies