30 June, 2011
Chocolate Chip Oatmeal Cookies #2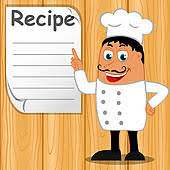 Posted in :
Cookies
on
by :
admin
Ingrients & Directions

3/4 c Flour
1 1/2 c Rolled oats
1/2 ts Baking soda
1/2 ts Salt
1 Stick butter
1/2 c Granulated sugar
1/2 c Dark brown sugar
1 Egg
1/2 ts Vanilla
1 tb Kahlua
1 pk (6-oz) chocolate chips
From: JOY HOGLEY jih@acpub.duke.edu
Date: Thu, 27 Jan 1994 17:29:15 -0500
Preheat oven to 350. In a small bowl stir together the flour, oatmeal,
baking soda, and salt. In a large bowl beat butter and sugars until creamy.
Add the egg, vanilla, and Kahlua. Then add the flour mixture, then the
chocolate chips. Put balls of dough 2 inches apart on greased cookie
sheets. Bake 10 to 12 minutes. Let stand for 2 minutes before taking them
off the sheet. From "365 great cookies and brownies" by Joanne Lamb Hayes
and Bonnie Tandy Leblang.
REC.FOOD.RECIPES ARCHIVES
/COOKIES
From rec.food.cooking archives. Downloaded from Glen's MM Recipe Archive,

Yields
24 Servings