31 December, 2011
Chunky White Chocolate Macadamia Nut Cookies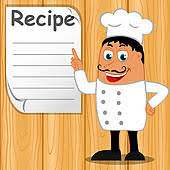 Posted in :
Cookies
on
by :
admin
Ingrients & Directions

1 c Plus 2 Tb. All Purpose Flour
1/2 ts Baking soda
1/4 ts Salt
1/2 c Unsalted butter, softened
1/2 c Light brown sugar, packed
1/4 c Granulated sugar
1 lg Egg
1 ts Vanilla
9 oz White chocolate with Almonds
-coarsley chopped
1 c Macadamia nuts
-coarsely chopped
Position two racks in top and bottom thirds of the oven and preheat to
375F. Lightly grease 2 baking sheets. Sift together flour, baking soda and
salt. In large bowl, using a hand-held mixer set at medium speed, cream
butter with the sugars for 2 to 3 minutes, until light and fluffy. Beat in
the egg and vanilla. Reduce speed and beat in the flour mixture until just
combined. Stir in the white chocolate and macadamia nuts.
Using 1 Tbl. dough, roll dough into a ball between the palms of your hands.
Place the ball on the cookie sheet, leaving 1 inch between the cookies.
Repeat for each cookie. With moistened palm, slightly flatten the cookies.
Bake 9-12 minutes, until lightly golden. Transfer the cookies to a wire
rack and cool completely.

Yields
30 Cookies