31 March, 2012
Cookie Nests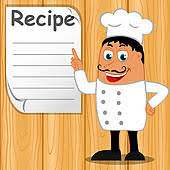 Posted in :
Cookies
on
by :
admin
Ingrients & Directions

3 c Chow mein noodles
7 oz Marshmallow creme
1/4 c Reduced fat peanut butter
1/4 c Coconut, flaked
1/2 c M&Ms? plain chocolate candy,
-in pastel colors
2 tb Reduced fat margarine,
-softened
1 ts Pure vanilla extract
45 Pcs jelly beans
In a mixing bowl, combine noodles, marshmallow creme, peanut butter,
coconut, candy pieces, margarine, and vanilla extract until smooth. Chill
until easy to handle. On waxed paper, form mixture by 1/4 cupfuls into nest
shape. Repeat with remaining mixture. Place nests on wax paper. Let dry.
Fill each nest with 3 jelly beans each.
Per serving: 201 Calories; 6g Fat (28% calories from fat); 3g Protein; 33g
Carbohydrate; 1mg Cholesterol; 99mg Sodium

Yields
15 Servings