31 March, 2013
Ginger Cookies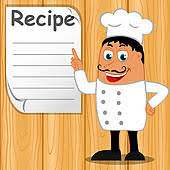 Posted in :
Cookies
on
by :
admin
Ingrients & Directions

6 tb Margarine, softened
2/3 c Sugar
1/4 c Molasses
1 Egg
2 c All-purpose flour
2 ts Baking soda
1 ts Ground ginger
1 ts Ground cinnamon
1/2 ts Ground mace
3 tb Sugar
Vegetable cooking spray
Cream margarine; gradually add 2/3 cup sugar, beating at medium speed of an
electric mixer until light and fluffy. Add molasses and egg; beat well.
Combine flour and next 4 ingredients; gradually add to creamed mixture,
stirring until well blended. Divide dough in half; wrap each portion in
plastic wrap, and freeze for 30 minutes.
Shape each portion of dough into 26 (1-inch) balls, and roll in remaining 3
tablespoons sugar. Place 2 inches apart on cookie sheets coated with
cooking spray. Bake at 350 deg for 12 minutes or until lightly browned.
Remove from sheets; cool on wire racks. Yield: 52 cookies (serving size: 1
cookie).
Serving Ideas : Store in an airtight container.
NOTES : These gingersnap-style cookies from Elizabeth Graubard, of Palm
Harbor, Florida, received rave reviews from our staff.

Yields
52 Servings