28 February, 2010
Honey-peanut Butter Cup Cookies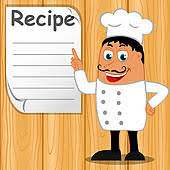 Posted in :
Cookies
on
by :
admin
Ingrients & Directions

1 c Butter or margarine,
-softened
3/4 c Peanut butter
3/4 c Sue Bee Honey
3/4 c Brown sugar
1 ts Vanilla
2 Eggs
1/3 c Unsweetened cocoa
1 ts Baking soda
1/2 ts Salt
2 1/3 c Flour
10 oz Peanut butter cups, cut up
1 c Semisweet chocolate chips
Mix butter, peanut butter, Sue Bee Honey, brown sugar, vanilla and
eggs until smooth and creamy. Add dry ingredients until mixed. Dough
will not be stiff. Mix in cut-up peanut butter cups and chips.
Refrigerate dough 2 hours. Preheat oven to 325'F. Drop by heaping
teaspoonfuls onto ungreased cookie sheet. Bake for 10-12 minutes.
From Tuscon area newspapers, 1994, 3rd quarter, courtest Mike Orchekowski.
File ftp://ftp.idiscover.co.uk/pub/food/mealmaster/recipes/tn-94q3.zip

Yields
60 Servings