30 September, 2011
Orange Cookie Baton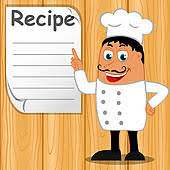 Posted in :
Cookies
on
by :
admin
Ingrients & Directions

1 3/4 c Flour
1/4 ts Baking powder
1/4 ts Salt
3/4 c Unsalted butter, at room
-temperature
1/2 c Sugar
1 Egg yolk
1 ts Orange rind, grated
4 oz Semisweet chocolate, melted
2 ts Solid vegetable shortening
1/2 c Pecans, finely chopped
Heat oven to 350. Lightly coat baking sheet with nonstick vegetable oil
cooking spray.
Combine flour, baking powder and salt in a small bowl. Beat together
butter, sugar and egg yolk in bowl until smooth. At low speed, beat in the
flour mixture and orange rind just until combined.
Spoon dough into a spritz gun fitted with the star disk. Pipe 2 1/2″ long
sticks onto the prepared baking sheet.
Bake in 350 oven for 8 to 10 minutes or just until lightly golden. With a
spatula, transfer cookies to wire rack to cool.
Melt together chocolate and vegetable shortening in a small saucepan. Place
the nuts in a small shallow dish. Dip about 1″ of the end of each cookie
into the chocolate, then roll in nuts. Place on waxed paper to cool
completely. Store airtight, refrigerated for up to 3 weeks.
Use finely chopped pistachios instead of pecans for the holidays.

Yields
84 Servings