31 October, 2011
Original Toll House Chocolate Chip Cookies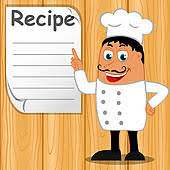 Posted in :
Cookies
on
by :
admin
Ingrients & Directions

2 1/2 c All-purpose flour
1 ts Baking soda
1 ts Salt
1 c Butter, softened
3/4 c Granulated sugar
3/4 c Firmly packed brown sugar
2 Eggs
1 ts Vanilla extract
1 pk NESTLE Toll House semi-sweet
-chocolate morsels (12 oz)
1 c Nuts, chopped
Preheat oven to 375'F. In small bowl, combine flour, baking soda and salt;
set aside.
In large mixer bowl, beat butter, geanulated sugar and brown sugar until
creamy. Add eggs, 1 at a time, beating well after each addition. Blend in
vanilla extract. Gradually beat in flour mixture. Stir in Nestle Toll
House semi-sweet chocolate morsels and nuts. Drop by rounded measuring
tablespoonfuls onto ungreased cookie sheets; cool completely.
Makes about 5 dozen cookies.
TOLL HOUSE PAN COOKIES: Preheat oven to 375'F. Prepare dough as directed;
spread in greased 15 1/2″ x 10 1/2″ baking pan. Bake 20-25 minutes until
golden brown. Cool completely. Cut into 2″ squares. Makes about 3 dozen
cookies.
REFRIGERATOR TOLL HOUSE COOKIES: Prepare dough as directed. Divide dough
in half; wrap halves separately in waxed paper. Refrigerate 1 hour or
until firm. On waxed paper, shape each dough half into 15″ log; wrap in
waxed paper. Refrigerate 30 minutes. (Dough may be stored up to 1 week in
refrigerator or up to 8 weeks in freezer, if foil- or freezer-wrapped.)
Preheat oven to 375'F. Cut each log into 30 (1/2″) slices. Place on
ungreased cookie sheets. Bake 8-10 minutes until edges are golden brown.
Makes 5 dozen.
From Favorite All Time Recipes – Homemade Holiday Cookies, Publication
International, Ltd., ISBN 0-7853-0147-X.
File ftp://ftp.idiscover.co.uk/pub/food/mealmaster/recipes/pi-cooky.zip

Yields
60 Servings