31 January, 2012
Snicker's Cookies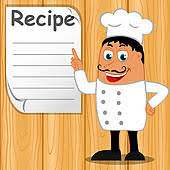 Posted in :
Cookies
on
by :
admin
Ingrients & Directions

1/2 c Sugar
1/2 c Firmly packed brown sugar
1/2 c Margarine or butter;
-softened
1/2 c Peanut butter
1 ts Vanilla
1 Egg
1 1/2 c All purpose flour
1/2 ts Baking powder
1/2 ts Baking soda
1/4 ts Salt
10 Snicker's fun size candy
-bars
Heat oven to 375. In large bowl combine sugar, brown sugar, margarine,
peanut butter, vanilla and egg; beat well.
Lightly spoon flour into measuring cup; level off. Add flour, baking
powder, baking soda and salt to sugar mixture; mix well.
Shape about 1/3 cup dough smoothly around each candy bar making sure bar is
completely covered. Place 4 inches apart on ungreased cookie sheets. Bake
at 375 for 13 to 16 minutes or until golden brown. Cool 10 minutes; remove
from cookie sheets. Cool completely.
NOTES : Can be made as cookie pops: Securely insert a wooden stick into
small end of each candy bar forming a lollipop. Shape about 1/3 cup dough
smoothly around each candy bar making sure bar is completely covered.

Yields
10 Servings