31 March, 2012
Spicy Molasses Drop Cookies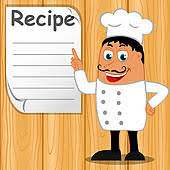 Posted in :
Cookies
on
by :
admin
Ingrients & Directions

2 1/2 c All-purpose flour
1 1/4 ts Baking powder
1/2 ts Baking soda
1/8 ts Salt
1 tb Ground ginger
1/2 ts Ground cinnamon
1/4 ts Ground cloves
1/2 c Packed brown sugar
6 tb Dark corn syrup
1/4 c Canola oil
1/4 c Molasses
1 Egg white
2 1/2 ts Vanilla
Homey and easy to make, these chewy drop cookies are great for lunch boxes
or after-school snacks. Store in an airtight container for up to a week.
Per cookie: Calories: 76 Fat: 1.7 g. (22% of calories) Saturated fat:
0.1 g. Cholesterol: 0 mg. Sodium:
45 mg.
Coat several baking sheets with no-stick spray and set aside.
In a medium bowl, mix the flour, baking powder, baking soda, salt, ginger,
cinnamon and cloves.
In a large bowl, combine the brown sugar, corn syrup, oil, molasses, egg
white and vanilla. Beat with an electric mixer until smooth. Beat in half
the flour mixture, just until blended. Stir in the remaining flour mixture
until evenly incorporated.
Drop heaping teaspoons of the dough about 2 1/2 inches apart on the
prepared baking sheets.
Bake at 375 degrees F for 5 to 8 minutes, or until the cookies are just
slightly darker at the edges than at the center. Transfer the baking sheet
to a wire rack. Let stand for 2 minutes. Remove the cookies and arrange on
wire racks to cool thoroughly. Makes 25.

Yields
25 Servings